It is the leading coordinator for Malaysia's transition to sustainable cities.
Cities are the beating heart of economic growth, technological advancements, and social development. In Malaysia, the majority of the population resides in urban areas, which contribute over 90% of the nation's economic activities. As urbanisation continues to accelerate, addressing the challenges of sustainable development and climate change becomes crucial. The Malaysian Industry-Government Group for High Technology (MiGHT) has emerged as a key player in spearheading projects that promote sustainable and smart city solutions.
One of MiGHT's notable achievements is the successful implementation of the Global Environment Facility 6 (GEF6) project. This project, which commenced in May 2017, focused on delivering four outputs: national and state policies for sustainable cities, the development of the Malaysia International Centre for Sustainable Cities (MyICSC) portal, extensive capacity-building programs, and a smart grid demonstration project in Melaka. The overarching goal was to integrate evidence-based urban planning and management approaches that balance economic, social, and environmental considerations whilst promoting climate risk mitigation technologies.
MiGHT's GEF6 project has made significant strides in accelerating Malaysia's readiness to address the challenges of urbanisation and climate change. It aligns with the 11th Malaysia Plan (RMK11) and supports green growth, innovation, industrial development in green technology, and the establishment of competitive city infrastructure. By facilitating coordinated implementation between the federal, state, and local stakeholders, MiGHT has played a pivotal role in Malaysia's transition towards sustainable cities.
The benefits of MiGHT's projects extend to various stakeholders within the ecosystem. Firstly, the government benefits from the project's integrated approach, enabling coordinated efforts at all levels and creating favourable policies for industry implementation. Secondly, communities experience an improved quality of life through urban greening initiatives that enhance their well-being. Thirdly, the industry benefits from a conducive environment for sustainable economic growth and increased investments in cities. Lastly, academia gains from demand-driven innovation and strengthened links with industry through the platform for sustainable cities.
MiGHT's projects are designed with flexibility, allowing for replication and emulation in other cities. The frameworks and modules developed can be adapted to suit the goals and needs of different states. For example, the requirement for all local governments to develop a smart city blueprint presents an opportunity to leverage the knowledge gained from MiGHT's projects. Additionally, the scaling up of the smart grid demonstration project in Melaka paves the way for its emulation in other states.
The Smart Grid Project (SGP) comprises four components: the development of regulatory framework & policy input to the government, human capital capacity development program, awareness raising campaign and demonstration project. The niche of the Smart Grid Project is to integrate various technologies (Solar Photovoltaic, Solar Thermal, Electric Vehicle & Charging Infrastructure, Battery Energy Storage and Advance Metering Infrastructure utilising Cloud-Based Virtual Energy Manager (CVEM) technology.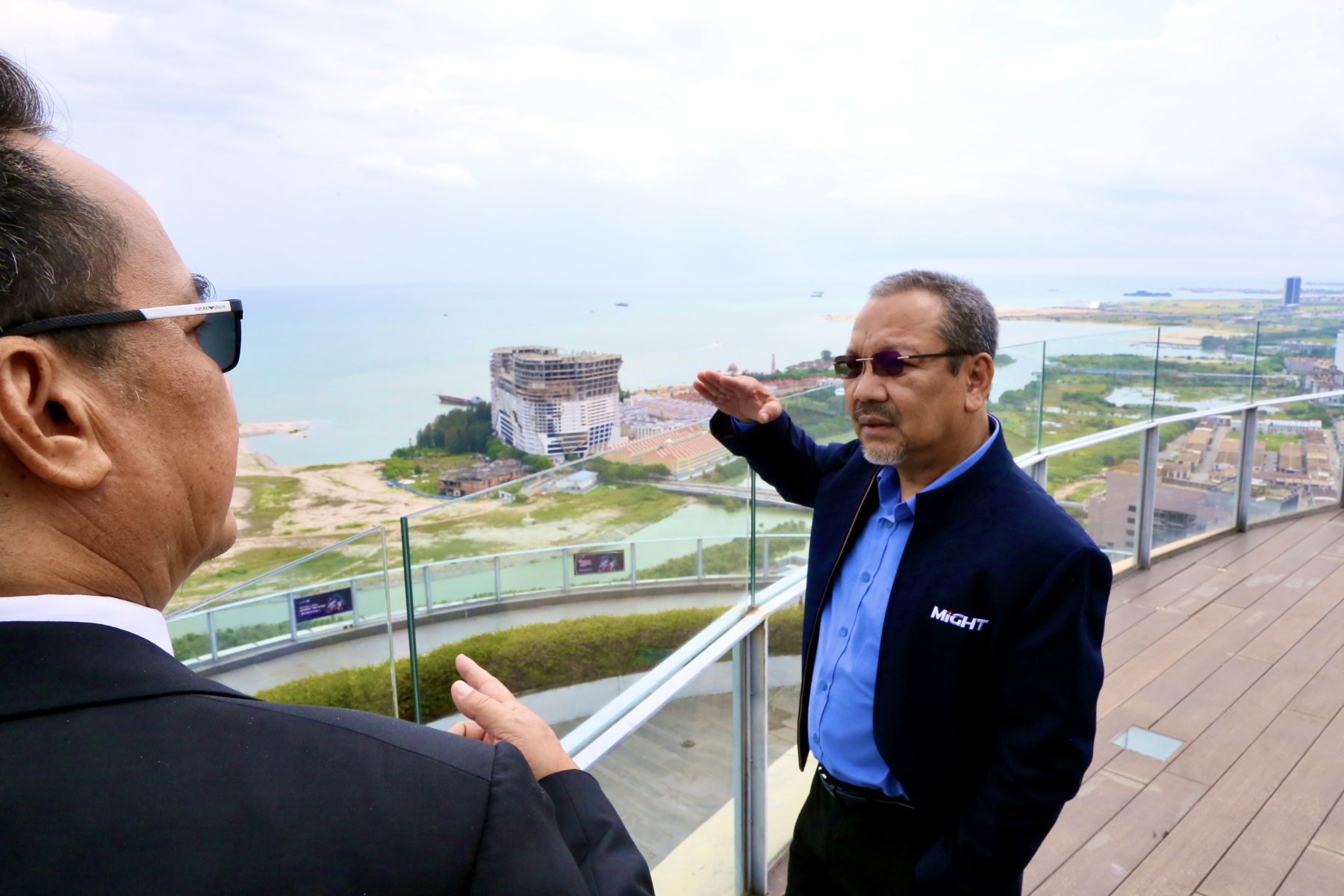 The ultimate goal of the Smart Grid Project is to reduce the Greenhouse Gasses (GHG) emissions in Melaka as the demo state project and to be upscaled nationwide. It will indirectly support Malaysia's commitment to slash its greenhouse emissions intensity against its GDP by 45% by 2030 from 2005 levels and achieve net zero by 2050.
Another significant endeavour undertaken by MiGHT is the collaboration with the State Government of Melaka in developing the Smart Melaka Blueprint 2035 (SMB2035). This blueprint, prepared under Flagship 7 of Pelan Strategik Melakaku Maju Jaya 2035 (PSMJ2035), aims to transform Melaka into a smart city whilst preserving its rich cultural heritage and fostering inclusive economic growth.
SMB2035 addresses the challenges arising from rapid urbanisation and the digital revolution, aligning with global and national agendas for sustainable and inclusive growth. The blueprint incorporates the digitalisation of administration, business, research, development, commercialisation, and society into a complete ecosystem. Through extensive consultation with stakeholders, SMB2035 identifies eight challenges, including economic growth, transportation, security, technology readiness, sustainable business models, e-government services, and environmental management.
To achieve its vision of "Sustainable, Livable, and Resilient Smart Melaka" and its mission of "Towards World Heritage Smart Melaka," SMB2035 encompasses five thrusts: smart partnerships, digital ecosystem, people-centric government processes, human capital development for digital economy readiness, and adoption of technology and automation. The blueprint outlines 20 strategies supported by 78 action plans to be executed in three phases.
MiGHT's involvement in SMB2035 exemplifies its commitment to driving transformative change in Melaka. With the support of stakeholders and implementation partners, MiGHT ensures the successful execution of the blueprint's initiatives. This comprehensive approach encapsulates people-centric governance, a vibrant economy, a sustainable environment, and a resilient society.
The success of MiGHT's projects, especially the Sustainable-city development in Malaysia project was highly recognised as effective by independent reviewers. The project was deemed to be highly pertinent for addressing urban growth challenges at global, regional, national, state, and local levels, with a design that is judged to be sound, appropriate, and technically feasible, well-aligned with the needs and priorities of Malaysian stakeholders and the GEF-funded parent programme, with around 80% of planned outputs delivered, even amidst COVID-19 related restrictions which impacted the timeline of several deliverables.
MiGHT's remarkable projects have garnered recognition and accolades. Their dedication to sustainable and smart city initiatives led them to win the National Science and Technology Initiative of the Year – Malaysia at the recently held Gov Media Awards. This prestigious award acknowledges MiGHT's outstanding contributions to advancing Malaysia's urban development, fostering innovation, and addressing climate change challenges.
As Malaysia continues its journey toward sustainable urbanisation, MiGHT remains at the forefront, driving initiatives that integrate technology, innovation, and sustainable practices. With their commitment and collaborative approach, MiGHT is poised to shape a future where cities are not only economically vibrant but also socially inclusive and environmentally sustainable.
The Gov Media Awards is presented by Gov Media Magazine. To view the full list of winners, click here. If you want to join the 2024 awards programme and be recognised for your organisation's government projects and initiatives, please contact Jane Patiag at awards@charltonmediamail.com.
Source: https://govmedia.com/event-news/how-might-forge-way-towards-sustainable-city-development